Kabuto Carry-on ROVER Lite
€325,00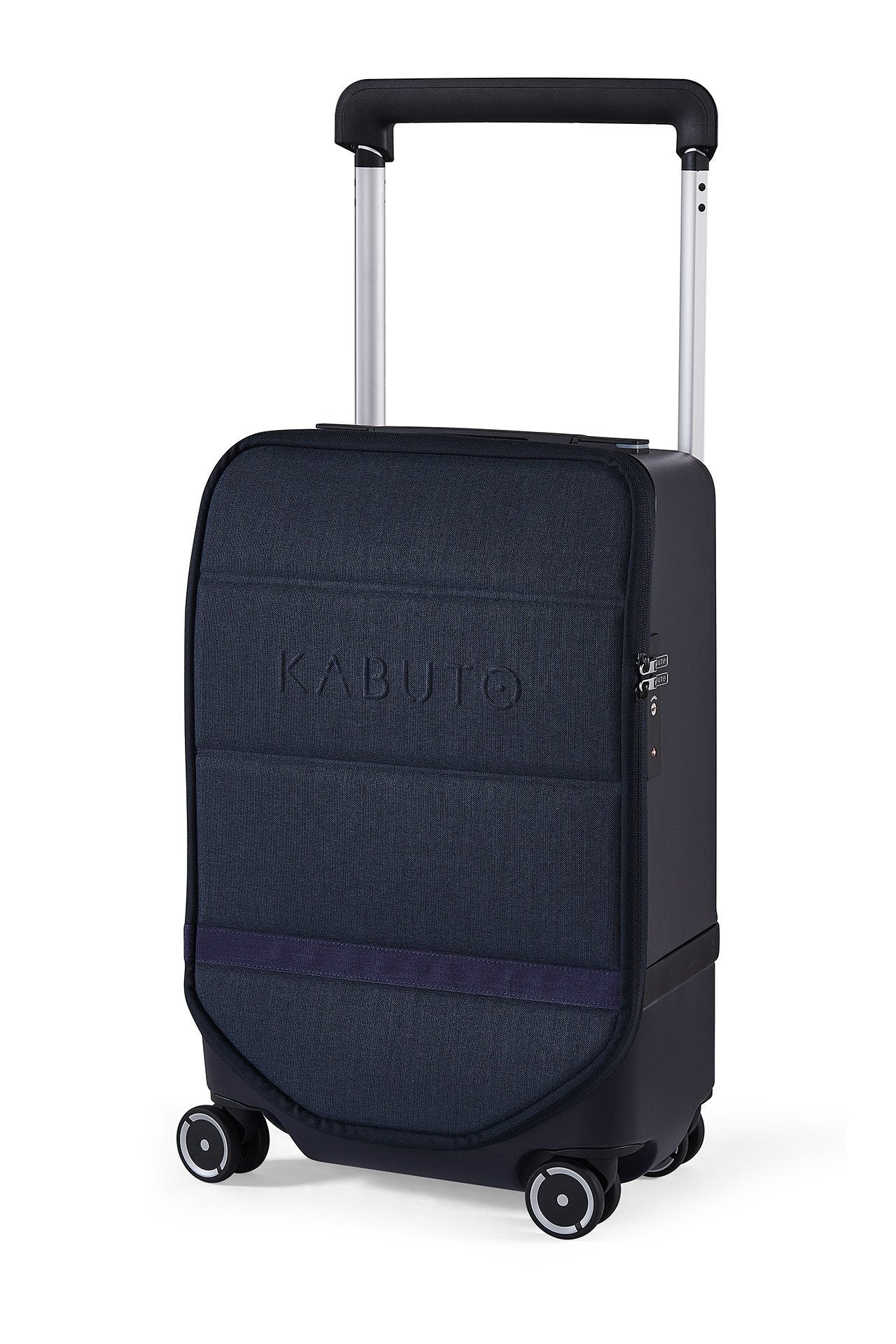 Removable, charging back pocket

4 Ultra silent wheels

3-digit code opening system (TSA approved) 

Size: 55x35x23cm (22x14x9")

Weight: 3,4kg (8lbs)
YOUR ORDER INCLUDES:
1 KABUTO carry-on 4x4 Lite
1 USB A socket + 1 USB C in the rear pocket
Lifetime warranty
THE DIMENSIONS:
55 x 35 x 23 cm (22 x 14 x 9 inches)
meet the IATA carry on recommendations. Weight : 3,6kg
Kabuto is made out of Bayer® Makrolon® polycarbonate,
the front door is 100% recycled polyester.
Waterproof, impact resistant
The only smart luggage with removable connected back pocket!
Magic connected clipping with MagSafe® magnets and USB C socket
Pull handle to take away
Your devices will be charged via the USB C plug when you lock the laptop pocket back onto the suitcase.

See if your computer is compatible with USB-C
Easy-access !
For connected travellers, you can add a second computer inside the suitcase up to 17-inch, protected and independent from the rest of your personal stuff.
The most silent wheels ever!
4 all terrain wheels fitted on double ball bearings and rubber tires for a smooth and quite ride on all terrain.
Standalone shoe compartment
The easy access bottom compartment is very convenient to pack your shoes or laundry bag.
It can be separated from the top compartment with a zippered partition

Size of the shoe compartment : 13.5 cm (5.3 inches) high, 21 cm (8.2 inches) deep, 33 cm (13 inches) wide
PERSONALIZE YOUR LUGGAGE !


Laser engraving : Customize the rod of your suitcase.
Paiement Secure
Pellentesque ac venenatis tellus Curabitur
Service clientèle
Disponible à tout moment pour vous aider
Garantie à vie
Ne jetez plus, nous réparons !
Your cart is empty
Vous n'avez pas encore d'articles dans votre panier. Rendez-vous dans notre e-shop pour la sélection des produits
Vous aimerez aussi...
Kabuto NOMAD: Smart Expandable 2-Wheel Carry-on
Kabuto GALLIVANTER : Smart Expandable 4-Wheel Carry-On
Kabuto ROVER: Smart Essential 4-Wheel Carry-On

Kabuto VOYAGER: Classic Expandable 2-Wheel Carry-on

Kabuto Carry-on ROVER Lite
Vous aimerez aussi...
Kabuto NOMAD: Smart Expandable 2-Wheel Carry-on
Kabuto GALLIVANTER : Smart Expandable 4-Wheel Carry-On
Kabuto ROVER: Smart Essential 4-Wheel Carry-On

Kabuto VOYAGER: Classic Expandable 2-Wheel Carry-on

Kabuto Carry-on ROVER Lite